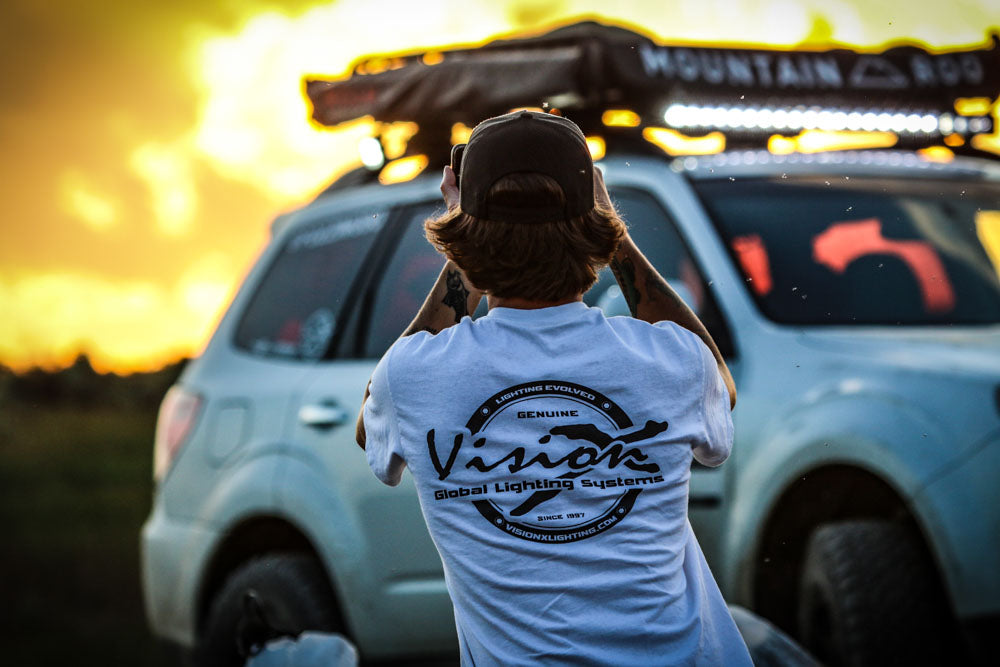 Using a Subaru and Vision X LED Lights for a Good Cause!!!
PLUC IS SHEDDING LIGHT ON PUBLIC LAND CLEANUP WITH VISION X LIGHTING!
He had it all planned out. He was on his way to work for Ducati, one of the most premier motorcycle manufactures in the world. The job offer was on his table, but something wasn't right. He just wasn't ready, there was something else calling him.

That's when it hit him, Dylan Gilbert, now Founder of PLUC (Public Lands United Cleanup) Non-Profit Organization knew he needed to take life on the road for a higher calling. He had spent his childhood in the deserts and mountains, but everywhere he went, he and his Dad would always leave it cleaner than they arrived.
Could one man actually make a difference? Could one man spend life on the road, simply picking up after others in our Public lands? Dylan thinks so, and he's now turned what was to be a 30-day adventure, into a quest to pick-up 1 Million Pounds of Trash before he's 30 years old. In a few short months, almost 10,000 lbs. picked up, hauled off, and in many cases recycled. Dylan figures he'll need to pick-up an average of 430 lbs. per day to reach the 1-Million-pound milestone. A daunting task? Yes, it is. Is he willing to take the challenge? Yes, he is! We were fortunate to meet Dylan early into his quest while he was searching for more light. Not figuratively, he was literally in the back country forest roads hunting for trash, when he realized his current lighting set-up just wasn't cutting it.
We jumped into action to support his efforts, along with one of our local dealers, Olympic Drive 4x4 of Puyallup, WA. Olympic supported the installation by mounting the Vision X 40" XPR Series LED Light Bar (XPR-21M) to the front of the Yakima Roof Rack. The LED Light Bar provides long distance lighting down the trail, while DuraMini Scene Lights (Dura-M460) were mounted to each side of the rack to ignite the surrounding area.

Not only does the new set-up provide lighting coverage for late evening trash pickups, but the DuraMini Scene Lights are also perfect for establishing camp. All of the lighting controls and switching are supported by a wireless Trigger Controller system by Advanced Accessory Concepts.
Keep an eye out for PLUC and Dylan Gilbert across the United States. Take the opportunity to meet him, and join him on a trash cleanup adventure. Without a doubt you will have a greater sense of appreciation for our public lands. Thank you Dylan, Vision X is proud to help you and PLUC make this world a brighter place.

Donations to support Dylan Gilbert and PLUC (Public Land United Cleanup) can be made to this GoFundMe HERE

PLUC Non-Profit is pending 501(c)3 approval.