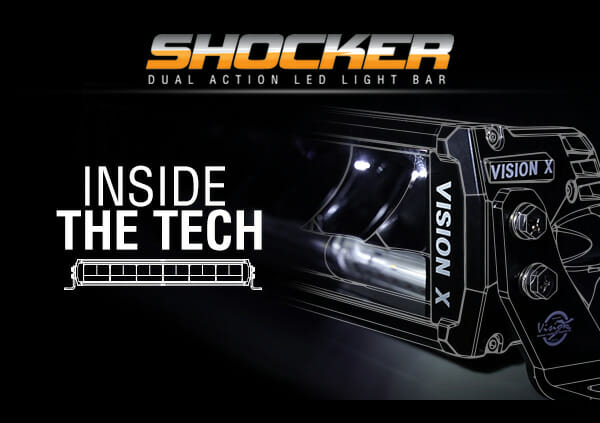 The Tech Behind the All New Shocker Dual Action LED Light Bar
PHOTON LIGHT CORE TECHNOLOGY
Most "wide" beams utilize flood optics which cause the light to spread out in all directions evenly. We wanted to create a beam that was even wider than conventional optics, but also had a sharp cut-off point so that we could keep the light low to the ground. After rigorous testing, our engineers developed the Photon Light Core (PLC). This acrylic tube disperses the light in an ultra-wide elliptical pattern with the same properties of a flood beam but is much wider and has a sharp cut-off point similar to a low-beam on a headlight. With the beam lower to the ground, the PLC minimizes glare when driving through harsh conditions and keeps the light where you need it most.
VECTOR REFLECTOR TECHNOLOGY
Reflectors are typically used when lighting distance is the main goal. The most common reflectors are conical (cone-shaped) which focuses the power of each LED on projecting the light the farthest but at the cost of having a tight beam pattern. With the newly designed Vector Reflector Technology (VRT), we achieved a long distance beam that fanned out towards the end due to the unique shape of the reflectors. Coupled with high intensity CREE LEDs we produced an effective driving style beam better suited for high-speed trail running.